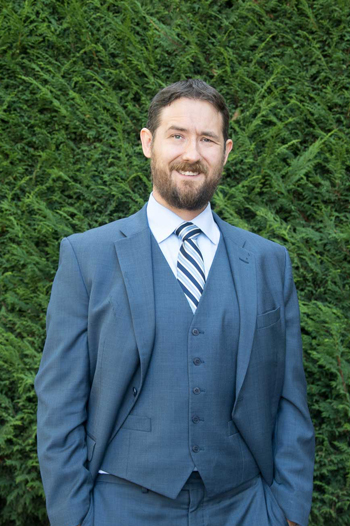 Preferred Areas of Practice: a wide array of legal matters, from Business, Corporate, Real Estate, Employment and Wills and Estates, to Small Claims, General Litigation, Criminal and Family.
Jeffrey was born and raised in Port Coquitlam, BC and settled in the Cowichan Valley in 2018 with his wife Anne, a life-long Cowichan Valley resident. Before embarking on a legal career, Jeffrey worked for over a decade as a professional engineer in the mining sector. His career spanned all areas of the industry, from research, teaching and laboratory testing, to design work and plant operations. He graduated with a Bachelor of Applied Science in Mining Engineering from the University of British Columbia in 2006 and received a Master of Applied Science in Mining Engineering in 2011. His graduate thesis focused on the environmental practice of improving energy efficiency in the mining industry.
In 2015, Jeffrey enrolled in law school at the University of Ottawa and completed his first year in our nation's capital before transferring back to BC, graduating with a law degree from the University of Victoria in 2018. His major research paper entitled "Bre-X, NI 43-101 and the Effectiveness of Regulating Mineral Project Disclosure in Canada" was published in the Canadian Business Law Journal. After completing his articles at Ridgway & Company, Jeffrey became a practicing lawyer in September 2019.
Jeffrey is the past Secretary of the Cowichan Valley Bar Association, and is currently the Association's President. He is also a past Director of the Cowichan Therapeutic Riding Association and a current Director of the SAG Conference Award Foundation. During law school, Jeffrey spent a semester working at the University of Victoria Law Centre, helping clients with various legal matters who could not afford a lawyer.
jdrozdiak@ridgco.com